Innovative accelerated pyrolysis technology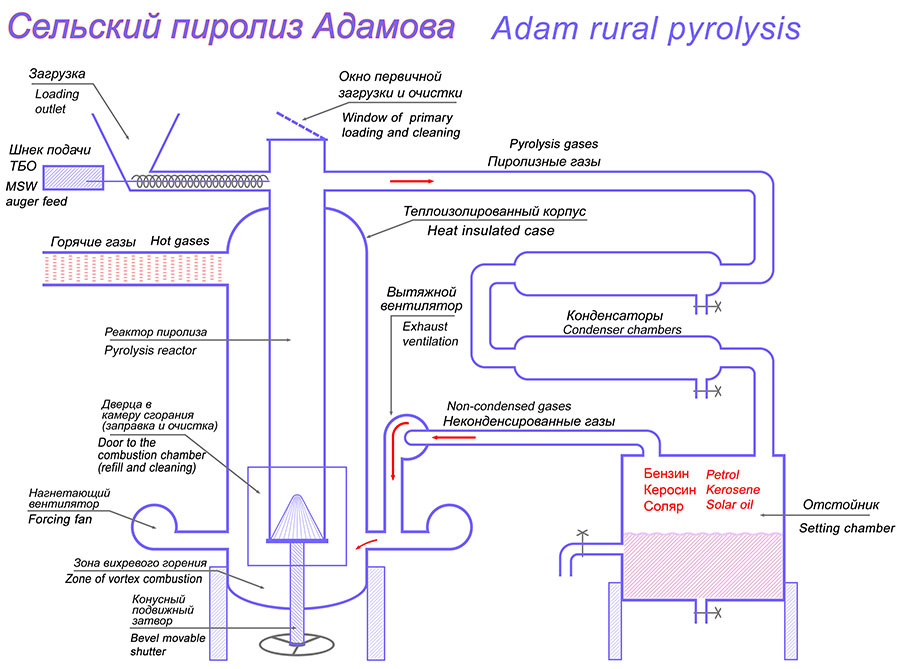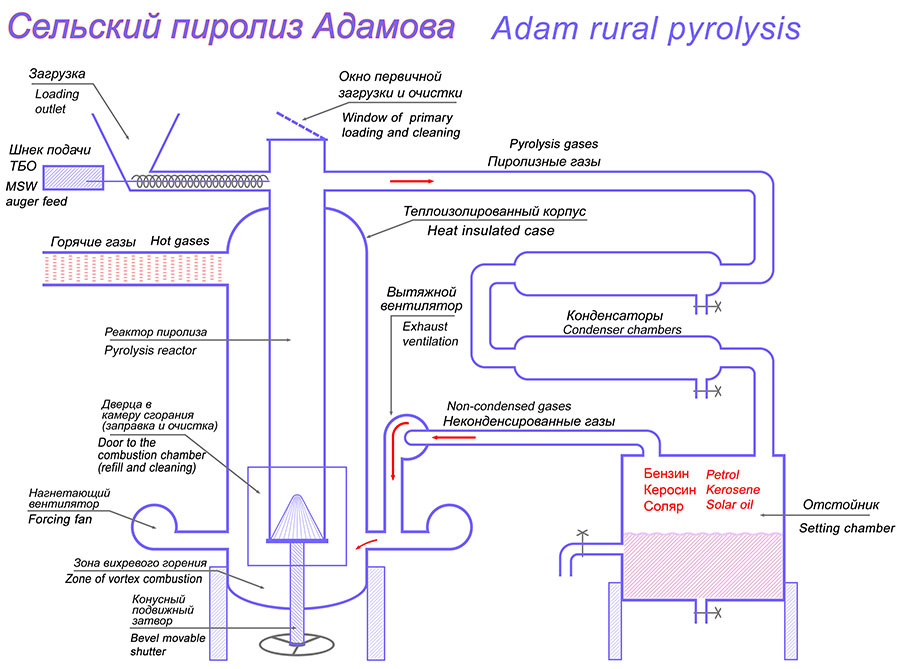 An innovative technology of accelerated pyrolysis using PUVRD (pulsating air-jet engine), which has no analogues in the world.
A group of engineers led by A.V. Adamov operating experimental equipment for the processing of solid domestic waste (solid household waste) and various organic waste with the production of heat, oil and gas was created and tested.
A distinctive feature of this equipment is the low cost and high processing efficiency associated with the use of a qualitatively different method of destruction – high-temperature radiation from the PUVRD body, which removes the existing problems in standard equipment:
– low process speed
– humidity requirements
– requirements for density and composition
– large sizes and the need for mixing during processing.
The release of combustible gases occurs 5-7 minutes after turning on the equipment, which allows the device to be completely converted to its own fuel and reduce processing costs.
Due to its high power density, the equipment can be compact and mobile, which will allow it to be placed anywhere (villages, hospitals, military units, etc.), integrating into heating systems, creating a new alternative electric power generation, utilizing any organic waste ( peat, silt, sawdust, algae) and solid waste.
The technology has the ability to increase the rate of destruction due to a special design and several know-how.
High temperature of the PUVRD body -1000-1500 gr. due to powerful penetrating radiation, it decomposes solid waste and wet organic matter, without imposing requirements for sorting, grinding, moisture content and composition, and the release of gases allows this process to be closed to itself, i.e. e to produce high-speed, efficient pyrolysis, using only garbage and organic matter using compact equipment that does not require repair and consumables.
This technology will solve the problem of solid waste accumulation and will open up a new technology for producing heat and electricity from cheap organic matter.
Approximate parameters of equipment based on processing 10 t / day:
– equipment weight -5-7 tons
-area for production – 300-500 sq. m
-service staff – 4-7 people
– the cost of equipment is $ 70-120,000
-consumed fuel – network methane 30% or transfer to own
fuel
-electricity consumption – 10-20 kW / h.
– technical water – circulating cycle -10 t.
We are ready for constructive cooperation to fine-tune the equipment to its final state – tests in operation, certification, registration of patents and production adjustment.
Terms 1-1.5 years
The required amount is 300-500.000 US dollars, you need an equipped
technical base and qualified engineers
A detailed description of the installation and video tests can be found on the ADAMS GENERATOR website in the article "Adamov's Flamethrower".