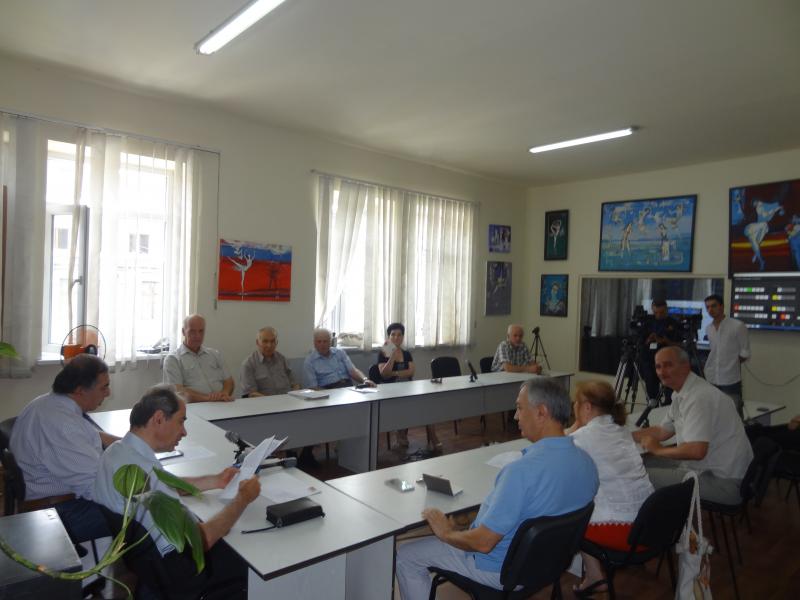 Adamov Armen – a physicist, inventor. author of a series of studies on combustion and thermal hatkutyuneeri materials. The author of the garbage varugh Adamov oven, the sample patrastval, and work on the videos are hamatsatsum.
Atanesyan Walter – Engineering works and shinararutyanpetakanhamalsaranum. 100 gyuteriheghinak is voronkveraberumenmiadzuyltnashinutyane, voreshatardyunavet and popular in Armenia.
MP Gagik – elektramekhaik engineer. He graduated from Yerevan Polytechnic Institute. Working in the factory as a senior engineer electro Safety Engineering
Avakian Slavik – fizikamatematikakangitutyunneri  Candidate. Working in PFWM Gyumrumasnachyughum, yerkugyuteriheghinak 1.Arants hakakshriavtoambardzich and 2.dipukahar a gun. He has mekmenagrutyun «Вселенная и Космология» LAP Lambert, 2013: In his works, the theory proved Eyshteyni mistakes. Given the occurrence of lightning normekhanizm ( "Gitutyanashkharhum" 2014).
John Asatryan 
Ashot Avetisyan: Chemist, alternative energy specialist. Author patents.
BABURYAN Vova –
Bezirganyan Child
Grigoryan Karen –
Armen Gevorgyan – Environmentalist and member of the board of trustees.
Hovhannes Gevorgyan 
Danielyan Vahe- 
Davtyan Vanush – 
Tigran Demirchyan 
Drmeyan Henrik –
Yegikisilyov Eduard – Computer engineer and filmmaker. First vice president of the Academy. 23 Russian producer and director of movies.
Narek Zakaryan –
Samvel Tadevosyan – Candidate of Technical Sciences. "Director Elektrostandart" CJSC, an expert in solar technology and renewable energy sector. The head of the four programs. 1. Solar Thermal Electric Power Plant 2.Arevayin heat storage devices 3. 4. energy clusters.
Tokhatyan Karen – astrophysicist, archaeologist and anthropologist. Gortsuneutyanolorteveraberum to the pictograms and hnaguynastghagitutyane.
Tumanyan Rafael – physicist, Doctor of Sciences ICF. Gauge interactions specialist works at his broad and deep application can be found on laser and energy. (099-55-03-71)
Khoyetsyan Stepan – Mechanical engineer, author of 25 patents, mostly related to questions of livestock fodder and mechanization. Member of the Public Council "Agriculture and Environmental Affairs Committee", "Deputy Director of the Agricultural Mechanization" Research Institute, inventor.
Hakhinyan Patvakan- (
Arsen Hakobyan – 
Vahan Hamazaspyan – Doctor of Technical Sciences, author of "Heliofication" program. (093-35-95-53)
25. Haykazyan Vartan – Associate Professor of Biological Sciences. He is working as the deputy director of the National Center for Agricultural Support. Author of over fifty publications.
Hovsepyan path 
Mamikonian Boris – 
Karen Mamikonyan – 
Pargev Manukyan – engineer-electrician. Working in PFWM Polytechnic University as an electrical chair. He has authored nine patents relating to elektratermiayin. Mainly engaged in the problems of induction heating and melting metals.
Melikyan Ashot –
Mkhitaryan Henrik- inventor, author of numerous ptentneri.
Shahkamyan Risky –
Shmavonyan Gagik- 
Sergey Voskanyan – Physicist, inventor
Voskanyan K aren ' robotics specialist, physicist, author of the groundbreaking DRONI.
V. Voskanyan – count technique specialist, inventor, author of numerous patents.
Petrosyan Leonid- USSR Honored inventor, author of more than 200 patents.
Sahradyan Risky –
Azat Sargsyan – Candidate of Physical and Mathematical Sciences. She works at the Institute of Mechanics of NAS as arajatarg itashkhatogh. Deals with problems of electrical theory aradzkanautyan and elasticity. The invention has a bran bread, as well as composite materials prepared by the family benefit, post apvats invention to increase the strength of parts.
Said Vachagan –
Haig Simonian –
Vardanyan Ruben- 
Tonapetyan Reward –